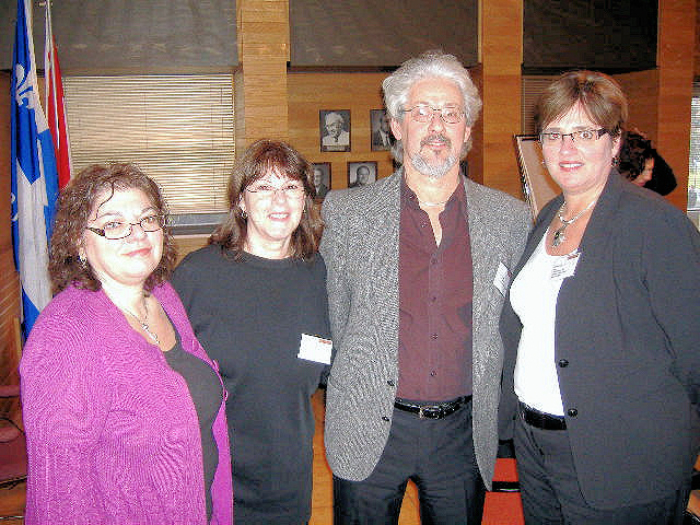 Donna Varica, Barbara Rutenberg, Michel Gagnon and Diane Gauvin
This month Maison Cross Roads organized and led discussions on the role of the media on crime perception. Held on December 3 at John Abbott College, centre executive director Michel Gagnon introduced speakers Diane Gauvin, Dean at Dawson College, and Lifeline organizer Michel Dunn, and moderated the afternoon discussion.
During the morning session, Dean Gauvin, assisted by college communications coordinator Donna Varrica, spoke on the Dawson shooting, the effect on students and faculty, and the college's communication and media strategy. Michel Dunn spoke on the services offered by Maison Cross Roads Lifeline program, and the steps necessary for a lifer to progress from incarceration to community release.
Attended by criminal justice practitioners: parole officers, psychologists, police officers, victims' rights advocates, educators and journalists, the afternoon discussion session centred on the positive and negative aspect of media coverage, and the importance of victim impact statements for both the perpetrator and victim. With the focus on restorative justice programs, action plans for prevention and improving citizen's perception were also discussed.
Organized by Maison Cross Roads' colloquium coordinator, Celina White, Barbara Rutenberg, a criminology instructor at John Abbott College, was also thanked for her contribution in making the event a success.